A Personal Note From Liz
FROZEN – Watch Here! (https://www

NULL

.youtube

NULL

.com/watch?v=L0MK7qz13bU)
June has a lot of…well… interesting holidays! Naturally, we take a day to honor all the dads. The Summer Solstice, the longest day of the year comes on June 21st.  After National Donut day and Yell "Fudge" to the Cobras Day, my favorite is  Let It Go Day… Celebrated on June 23rd…Perhaps inspired by Disney's smash hit "Frozen"… here are some of the lyrics:
Let it go, let it go
Turn away and slam the door
I don't care
what they're going to say
Let the storm rage on.
The cold never bothered me anyway
It's funny how some distance
Makes everything seem small
And the fears that once controlled me
Can't get to me at all
It's time to see what I can do
To test the limits and break through
No right, no wrong, no rules for me,
I'm free!
At the opera! The Metropolitan Opera staged Straus's Der Rosenkavalier… a hilarious tale of affairs, a gold-digging boorish baron (appropriately named Ochs- "Ox" in German), disguises…and ultimately the triumph of love. Bittersweet that it was the last performance of the two principal roles by Renée Fleming as the Marschallin and Elīna Garanča as Octavian. There is a bittersweet undercurrent to the story as well… for it is about the passage of time…and lost opportunity. At 32, the Marchellin is so conscious of time passing that she stops all the clocks in the house. As for the social commentary, the current production sets the scene in the last years of the Habsburg Empire.
​​​​​​​
This is what people regret most….                
There are two words that people utter before they stop themselves…. from choosing… from DOING something… from trying something out…from "going for it"… from making a decision that could change their life for the better…from losing weight.
These two little words hold so much power!
"What if."
What if I can't do it?
What if it doesn't work?
What if they laugh?
What if I look foolish?
What if I fail?
What if people talk?
What if they judge me?
What if it doesn't turn out perfect?
What if I'm wrong????
Do you think like this sometimes? Because if you do, I have a few questions for you:
What if you do it? And it works out beyond your expectations and wildest dreams?
What if it works out splendidly? And so easily you can hardly believe it?
What if they applaud, cheer you on???
What if you look foolish and you still succeed?  Remember that you have to break a few eggs to make an omelet! Success can be messy.
What if you succeed….become the most amazing "you" that you are destined to be?
What if they judge you and LIKE you??? Love what you've accomplished?? Love how you look?
And if they don't… Remember that the people who mind don't matter and the people who matter don't mind.- Dr. Seuss
What if it DOES turn out perfect??? Or better than you had any reason to believe it would???
And what if you're right???
What's my point?
The truth is that most of the time when you ask "what if", it leads to making decisions and choices you will regret later. I'm talking about the other two little words….the ones that are filled with regret… "I wish.." The close second is "If only.."
What to do???  The truth is that the underpinning of "What if" is FEAR! Yup, our subconscious minds have stored up every single experience of flubbing up, being laughed at, being criticized, shamed and judged….even rejected for trying out something we wanted to do. Our cells have stored up all of the sadness, defeat, humiliation and broken-heartedness from these experiences. AND our subconscious will do ANYTHING to avoid that pain, that suffering…. including stopping us from taking advantage of opportunities… losing weight and having a healthy body.
How to turn this situation around???
First, think of F.E.A.R. as False Evidence Appearing Real.
Mark Twain said "I've had a lot of worries in my life, most of which never happened."  He also said that he had lived through many terrible things in his life, some of which actually happened. Both statements point to the incredible power of the imagination and the subconscious mind.
A Harvard study has shown that the brain does not know the difference between imagined and real experiences. A University of Chicago study went further to prove that the old files can actually be rewritten.
Psychologists at the University of Chicago took three groups of basketball players. Group One practiced foul shots each day for thirty days. Group Two was instructed to "imagine" shooting foul shots each day for thirty days. Group Three was instructed to do nothing. When tested, Group One (practicing shots) improved 24 percent. Group Three (doing nothing) had no improvement. Group Two, the group that only imagined shooting foul shots, improved 23 percent without physically touching a basketball!
Why? As far as the brain knew, both groups that practiced (real & imagined) had shot foul shots daily. The difference?  Group Two never missed! Group Two, never missing, was given more emotional confidence by their brain. The brain also memorized the foul-shooting pattern as though they were on the court. In Group One, their brain experienced the hit-and-miss pattern of actual foul shooting which did not build confidence.
Why mention this? We have the ability to build our own files, even when the actual real-world experience is lacking. Using our imagination, we can alter files by imagining new information and new outcomes. 
Ok, Liz, how does this apply to losing weight?
It applies in two ways. First, extra weight is often the result of increased cortisol levels which stem from stress and negative experiences. Rewriting the files using your imagination helps to increase feelings of confidence and safety which lower cortisol levels. Humor is one of the best techniques to do this. Bad memories of being yelled at by someone? Imagine them being 6 inches tall and doing it. LOL!!! Imagine letting it go!
Second, extra weight can be the result of faulty body image and the behaviors that go with it. Rewriting the files using your imagination can install a positive image and create the behaviors that support a healthy body. Just imagine yourself actually chewing slowly and savoring every bite instead of wolfing food down. Imagine yourself enjoying a 20-minute walk every day. Practice appreciating your body.
Regular use of visualizations and meditations is a very powerful tool. It provides the foundation for making decisions from a place of strength and confidence.
Remember: Every moment of your life you have the chance to make a decision that will change your life forever. What would you decide if you couldn't miss?
And this is EXACTLY what happens in my Diet Free Weight Loss Program…
​​​​​​​​​​​​
Working with Liz
"I now fit into jeans I haven't worn in five years!"
​​​​​​​​​​​​​​
"Liz helped me get healthier and lose weight, but I got so much more than that. I also healed a relationship that was causing immense pain and turmoil for decades. Plus, since working with Liz, I now fit into jeans I haven't worn in five years! Liz, thank you from the bottom of my heart for helping me get a body and a life I love."
-Rhonda Ryder, Be You Videos.com
Liz's Recipe ~ Chicken and Mixed Peppers​​​​
OK- here's another one of my favorites… easy!!! And colorful. It makes a very nice, light supper.
Ingredients
1 boneless, skinless chicken thigh per person
Bread Crumbs with Italian Herbs
1 Each of Red, Yellow, Orange and Green Bell Peppers, coarsely chopped
1 large Lemon- juiced
Salt to taste
Olive oil- 2 T.
How I Make It
Roll the chicken thighs in the bread crumbs and set aside.
Place olive oil in a skillet and start to heat it.
When the oil is hot, put the breaded thighs in to brown.
Turn the thighs and add in the chopped peppers.
Add in the lemon juice and the salt.
Turn down the heat and let cook for about 10 minutes… until thighs are cooked through.
When LOVE means MORE…
If you are like many of my clients, LOVE means MORE. And LESS means feeling sad and neglected. We have found a wonderful solution in LIVLIGA china. Scientific research has proven that we eat with our eyes first. Livliga's ingenious design satisfies your eyes without overfilling your plate… so that your body gets the right amount of food. You can finish a meal feeling satisfied rather than stuffed. How cool is that!
livligahome.com (http://www

NULL

.livligahome

NULL

.com/?Click=804%C2%A0)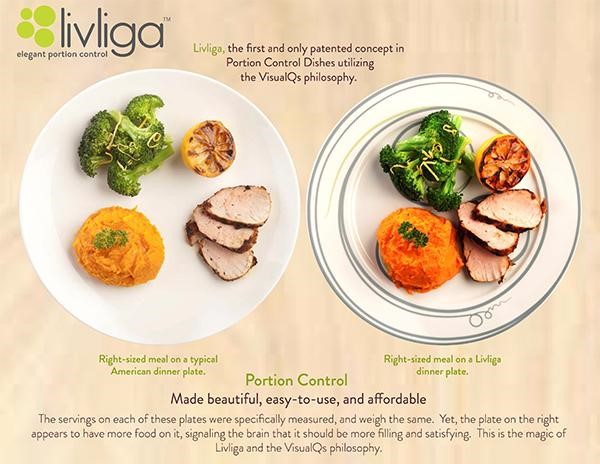 (http://www

NULL

.livligahome

NULL

.com/?Click=804)
Please do forward this to whomever you think would benefit.  If you would prefer not to hear from me, just tell me and I'll take you off the list.  I'll MISS you!
And, I welcome your comments.  E-mail me at liz@lizbull.com.
Cheers!
Liz
Diet FREE Weight Loss – Virtual Gastric Band
Get A Life and A Body You Love!
https://www.facebook.com/Liz-Bull-448443501840772/ (https://www

NULL

.facebook

NULL

.com/Liz-Bull-448443501840772/)
https://twitter.com/LizBullVGB (https://twitter

NULL

.com/LizBullVGB)
https://www.linkedin.com/in/lizbull (https://www

NULL

.linkedin

NULL

.com/in/lizbull)
https://plus.google.com/107921680884703717718/posts (https://plus

NULL

.google

NULL

.com/107921680884703717718/posts)